Egetræsbænk i enkel stil med læderhynde. Bænken er fremstillet i massivt egetræ med affasede kanter for at give den et let og elegant udtryk.
Til at fastholde hynden på sin plads har jeg opfundet en enkel løsning, der er synlig ved enderne af bænken, og som på en raffineret måde er med til at give bænken sit helt eget særkende.
Hynden holdes på plads af en læderløkke på undersiden der omkranser en rustfri stålstang der fastholdes i en langsgående "nøglehuls"-rille i bænken. Hynden er nem at af- eller påmontere bænken ved enten at skyde stålstangen ud af eller ind i læderløkken. Den tværgående nøglehulsrille gør bænken karakteristisk både med og uden hynde.
Bænken sælges af Made by Toft og kan købes her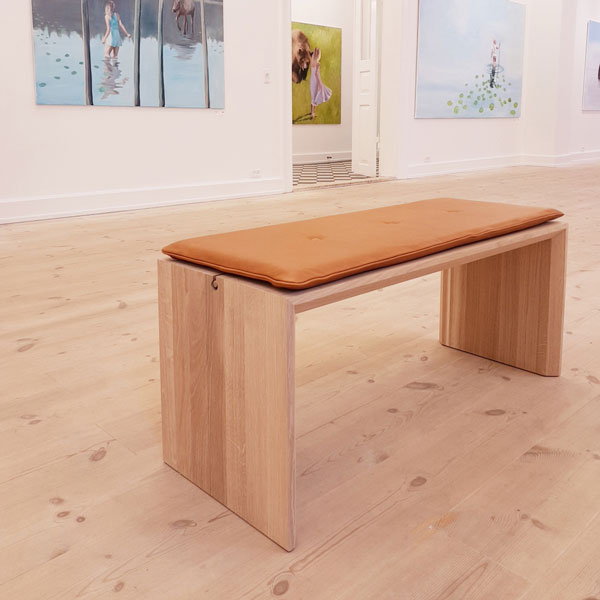 Bench with smart detail to hold the cushion in place
Oak bench in simple style with leather cushion. The bench is made of solid oak with bevelled edges to give it a light and elegant look.
To hold the cushion in place, I have invented a simple solution that is visible at the ends of the bench, and which in a refined way helps to give the bench its very own distinctiveness.
The cushion is held in place by a leather loop on the underside that encircles a stainless steel bar that is held in a longitudinal "keyhole" groove in the bench. The cushion is easy to remove or mount on the bench by either sliding the steel bar out of or into the leather loop. The transverse keyhole groove makes the bench characteristic both with and without cushion.
The bench is sold by Made by Toft and can be purchased here