Design og udvikling af beholder/værktøj til fugepinde
JWL A/S / Ekstern kunde / / 2018-19
Udvikling og design af beholder/værktøj til fugepinde til ekstern kunde i forbindelse med ansættelse hos JWL
Fugespanden gør fugearbejdet lettere. Der er mange funktionaliteter bygget ind i produktet. Først og fremmest kan fugepindene opbevares i beholderen mens de er nedsat i glittevæske. Dette gøres for at mætte fugepindene så fugemassen ikke klæber til dem under fugning.
Beholderens udformning gør at den kan placeres over stigetrin og rækværk i forbindelse med fugning i højden. Derudover har den en fleksibel og aftagelig hank til hænge beholderen op i, fiksere i varevognen eller montere i bælte så hænderne er fri. Låget kan fastgøres under beholderen under brug.
Beholderen har 2 adskilte rum – det ene til fugepindene det andet til fugeaffald ifbm. at fugepindene skrabes af på de indbyggede skrabekanter.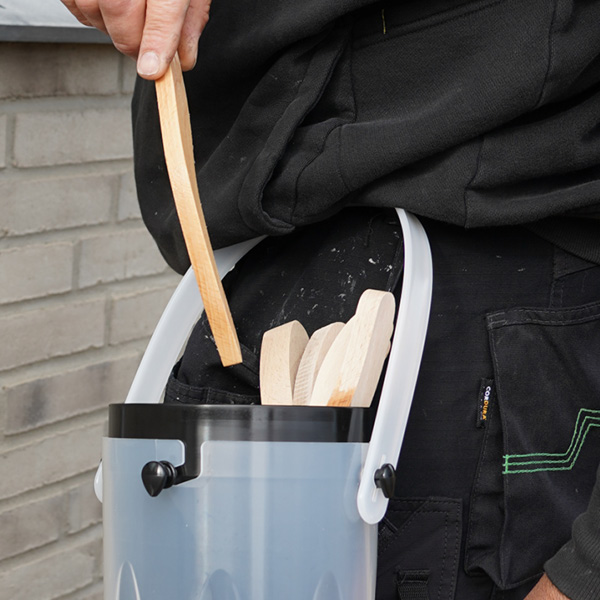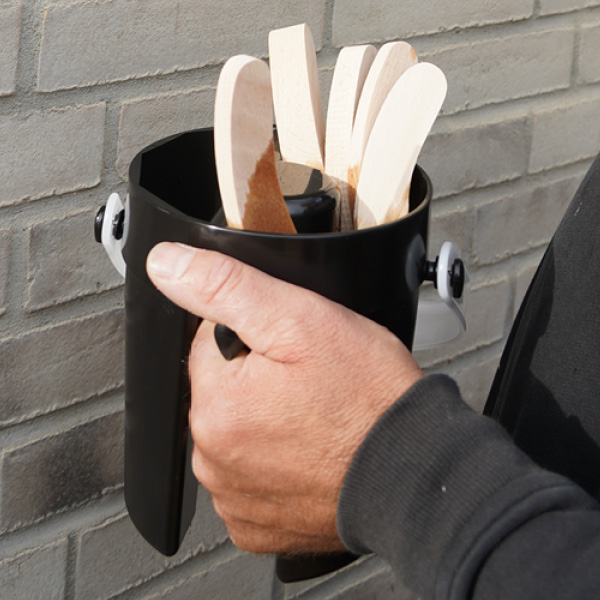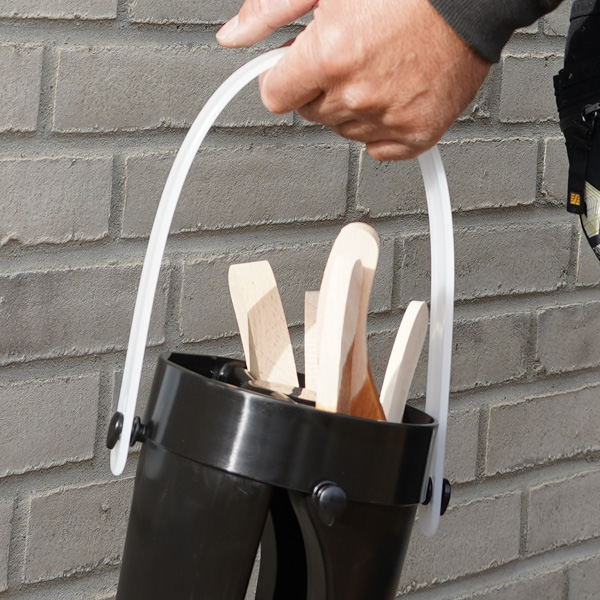 Design and development of container/tool for grouting sticks
Development and design of a container/tool for grouting sticks for an external customer. Performed during employment at JWL.
The grout bucket makes grouting easier. There are many functionalities built into the product. First of all, the grouting sticks can be stored in the container while they are lowered in grout liquid. This is done to saturate the grout sticks so that the grout does not stick to them during grouting.
The design of the container means that it can be placed over ladder steps and railings in connection with grouting at height. In addition, it has a flexible and removable handle for hanging the container, fixing it in the van or mounting it on a belt so that the hands are free. The lid can be fixed under the container during use.
The container has 2 separate compartments – one for the grouting sticks, the other for grouting waste. that the grouting sticks are scraped off on the built-in scraper edges.